Our founders
Brian Galivan, Gabriela Galivan, Patrick Galivan
Training for hockey started in the old barn in Oak Park, IL- Ridgeland Commons Ice rink. I was 9 years old and my dad took me to public skating. He laced up my old worn out leather rental CCM's, I mean Bobby Hall may have worn these things. He took me to a spot on the board and said "have at it"! And he proceeded to skate off. I watched him glide around the ice while I held on to the boards for dear life. I remember for the first time in my short life I said to myself, "I am going to get good at this". From that day on it was ON! I went to public skating everyday and taught myself to fly. It was such an amazing free feeling and it was the first sport I had ever worked to get good at. At the same time, my little brothers started skating lessons and within a couple years we became a hockey family. 3 boys playing travel hockey and a Mom and Dad that had no idea what we were really getting into." Fast forward, Pat, our golden boy played D1 for WMU and had a 6yr pro career. When Pat turned pro he had a degree in exercise physiology. And I had just switched careers from a union Mason to a personal trainer. Yes, that's right. I spent my early 20's doing 2 things, 1) working my ass off for my union Cement Mason Local 502 and 2) lifting weights and box which led to me training people on the side after work. Recession hit and what better time to make a pivot. Gabby was a key person in making that happen. She asked me one day "If you could do anything, what would you do?" and I said "It would be cool to train hockey players." Where I would have been ok being where I was, she knew before I even knew that this was what I was meant to do. She was relentless in figuring out ways to make that happen. Every-time I would think. "this is crazy " She would be there to say, yes so what? Keep going. Her motto for life, "there's always a solution to a problem" and her idea driven, overly positive mind helped us start GVN from its infancy. Pat went pro when I was in my second year as a full time Personal trainer. My brothers and I were no strangers to off season training or just crushing weights in general. So I came up with a great idea. While my brother was playing in the minors and not making that much money we thought why don't we try to get some guys and train them for the summer. Being a current athlete and a quiet leader my brother was hesitant, not because we weren't capable, but he knew what I, at the time, was blind too… the seriousness of off-season programming. These are their careers, a trainer can make or break a player in the summer, add or take years off a guy's career. This is serious business, but we did it anyway! So I started calling guys up and putting out the word that we had an off-season program for pros. I was able to recruit 3 players. Brock Shelgren ECHL (who I babysat growing up), Luke Sandler BCHL, and Casey Haines ECHL. About 2-3 weeks into the summer is when I got the call that changed my career, better yet my life. Tim Stapleton, former NHL player and KHL all-star called me up and said he heard that my brother and I were training guys and he lived a couple blocks from my gym. He wanted to know if he and Andy Wozniewski, former NHL player/ Euro league all-star at the time, could come meet me and check out the gym. At the end of our meeting they asked me if my brother and I would take them on for the rest of the summer. I was pumped! I left the gym on cloud 9. I was driving home and it hit me. I have 2 NHL players for the rest of the summer and immediately felt anxiety, followed by nausea. What my brother knew all along and I finally just realized is "I have these guys' careers in my hands" I called Pat and said "I have good news and bad news. Good news is, I got us 2 more guys and you won't be broke all summer…bad news, they're NHL players and we have to get our shit together!" … and the rest is history.
Brian Galivan is the founder of GVN Performance and Director of Sports Science for the USA Hockey National Team Development Program. Brian is a world renowned Sports Performance Specialist who has had the privilege to work with elite athletes around the world including: Olympics, World Juniors and athletes from all major US and Euro sports Leagues. Galivan's passion for human kinesiology and recovery modalities as it relates to high performance, as well as having 5 younger brothers, led him early on in his career to carve out a hockey niche in the Chicago Area. Galivan is a firm believer that you must be in a constant state of learning in order to grow and master your craft. As a high performance specialist, Galivan works with athletes and clients on strength and conditioning, injury rehabilitation and recovery, as well as athletic monitoring and testing. He is committed to working with his clients on creating and reaching optimal performance and understands the biomechanics, physical and emotional demands of athletes. His compassion and ability to mentor in both the gym and in life has allowed GVN performance to grow to much more than just a training facility. He has created a culture that gives elite athletes, youth, and adult fitness enthusiasts alike, the support, resources, and inspiration to reach their true potential.
Previous to joining GVN and the National Team Development Program, Joe was instrumental in building the strength and conditioning program at Windy City Storm, a nationally competitive AAA team based in Chicago. Before his time in Chicago, Joe spent 3 years at Mike Boyle Strength and Conditioning in Woburn MA, where he learned and developed his own training philosophy under the tutelage of Mike and his staff. Joe has also spent significant time working in the USHL and high school levels, and has also interned at the NHL level. Joe has a bachelor's degree in Exercise Science with a concentration in Coaching from Keene State College, and is currently pursuing a masters degree in Nutrition from Concordia University Chicago. Beyond his academic career, Joe has a number of certifications including NSCA CSCS, CFSC L1 and FMS L1. Joe's passion for the sport of hockey pushed him towards the field of strength and conditioning, and was a means for him to stay close to the game he grew up playing. He prides himself on an in depth understanding of how to develop athletes into elite competitors both in the weightroom and on the ice. His experiences as a former player affords him a unique perspective on how to tailor training to the demands of a unique and grueling sport. Joe is always looking to grow as a person, coach and colleague, and dedicates himself to continuously learning, and adding layers to his coaching and programming toolbox.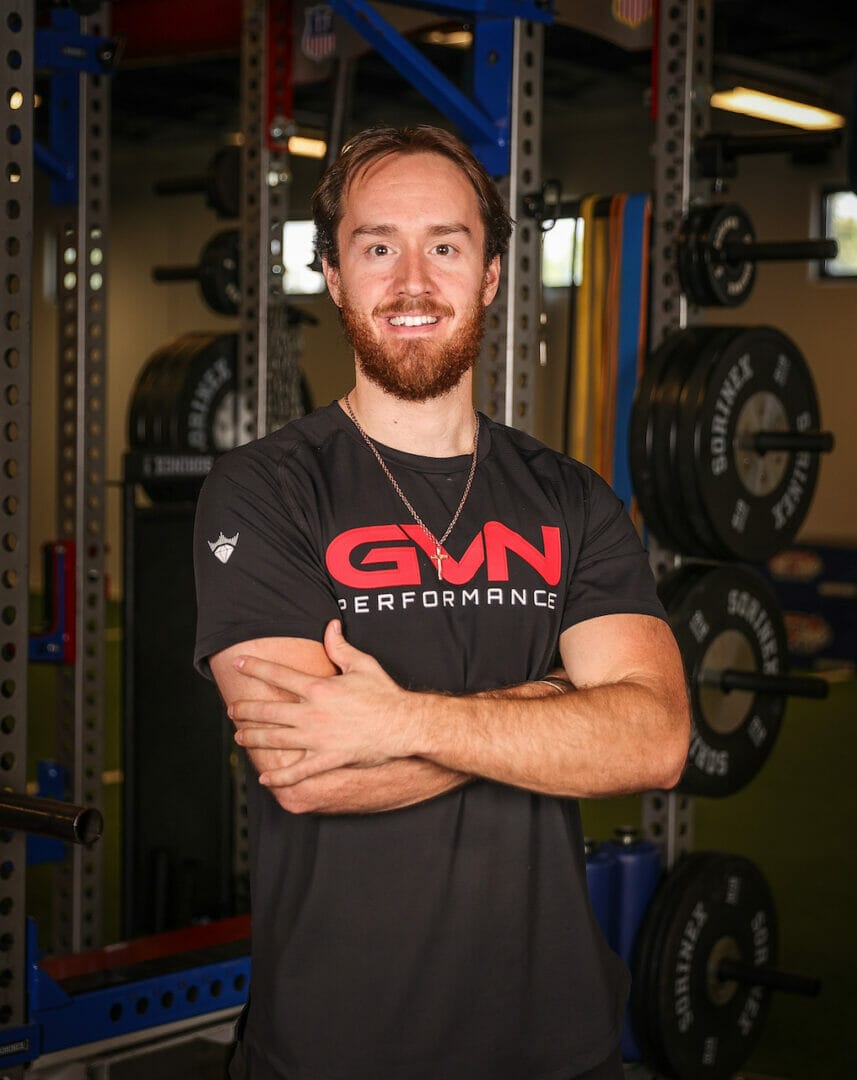 Jason is joining the GVN team as the head strength coach for Compuware and assistant for NTDP. Prior to joining GVN Jason spent 3 years at Sports Performance Institute in his home town of Tulsa Oklahoma. His roles there stretched far and wide training athletes of all ages and sports. One of his major roles, along with the staff at SPI, was overseeing the strength and conditioning programs for the Tulsa Oilers, the ECHL affiliate of the Anaheim Ducks. Next he was also responsible for programming and training for the Tulsa Junior Oilers Youth Hockey Association. This ranged from youth athletes to AAA players. Previous to his time at SPI Jason spent 1 year at Mike Boyle Strength & Conditioning in Massachusetts and 1 year in Division I Football at Missouri State University. He holds a Master's Degree in Exercise Science from Merrimack College and a Bachelor's Degree in Exercise Science from Missouri State University. He also holds a CSCS certification and a CFSC certification. Growing up playing hockey himself, Jason always was fascinated with training but never had a coach who really showed him what it meant to actually train. That void in his life drove him to learn for himself. Jason desires to create a unique training experience that is fun, engaging and demands high effort.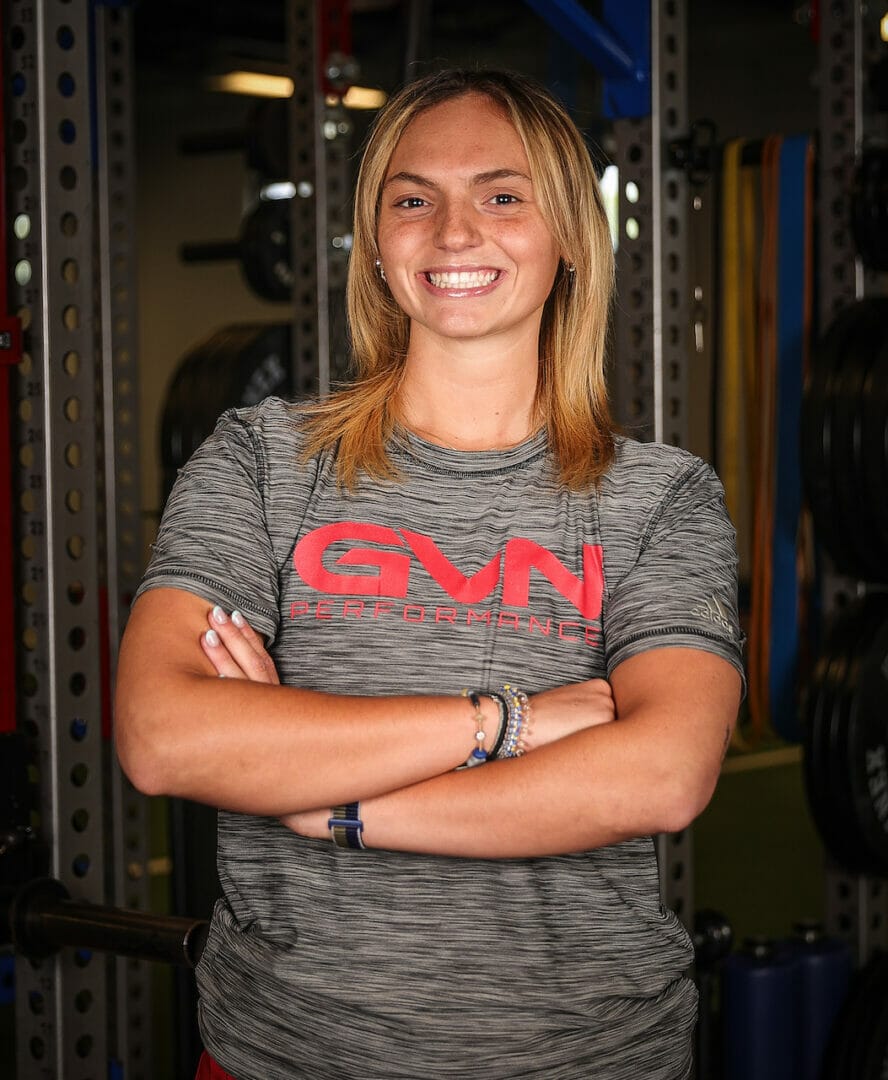 GVN Performance Coach Baillie is an assistant Strength and Conditioning coach. While attending Western Michigan University for her Bachelor's in Exercise Science, Baillie worked with the Men's Baseball team, as well as being a Strength and Conditioning coach at Athletic Mentors. Before coming to GVN, Baillie completed an internship at the University of Wisconsin, working with the Mens and Womens Hockey and Basketball programs in Strength and Conditioning. With her passion for sports stemming from playing and watching as she grew up, it's only grown Baillie's expressive desire for a healthy and active lifestyle.
Get started
Click the button below to book a free intro. See if GVN Performance Michigan is right for you.
Fill out the form below to get started
Take the first step towards getting the results that you want
Free Intro